We're excited to introduce the Cyber Store, a new website where you can purchase the best game bundles, including Character, Fuel Cell and Cybercoin Bundles with added value compared to in-game, thus providing the best value ever!
The Cyber Store is currently live in all countries except mainland China, Russia, Vietnam, and Belgium. Please join the #cyber-store channel for support on Discord: http://discord.gg/tfew
First off, before accessing our new store, you'll need to copy your personal User ID. To find your personal User ID. In-game go to Menu and select the Settings Button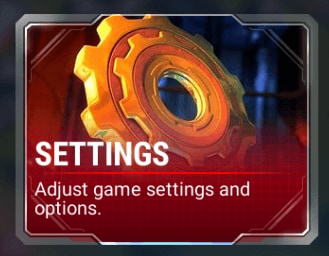 In the Player Settings section, you will see a long number, which is your unique User ID. You can also press the Copy User ID button to copy this number to your clipboard. You will need that for our Cyber Store!

Then access our store below:
https://store.transformersearthwars.com/ 
In the top right, tap "Log In" and paste your code into User ID box. On any phone, you can simply do this by holding down the text box and tapping "paste" when the dialogue box appears on both Android/Google. Then tap Log In! That's it! Your in-game name will appear and will replace the "Log In" text, so you'll always know which account you're making purchases on. From that point on, you can purchase any of the items on our website at a discounted price, and they will be sent immediately to you in-game.
We plan to extend access to players worldwide as soon as possible, providing testing goes smoothly.
What payment methods are supported?
Google Pay, Apple Pay, Paypal, Cards (All of the most popular ones Visa, Debit, AmericanExpress etc), Amazon Pay, and Klarna.
What currency are the bundles in?
All bundles initially will be offered in USD $, and then it will be converted to your country's currency at check-out.
Where can I find the store link?
Please always ensure that before you purchase any items you check that the link is: https://store.transformersearthwars.com/ - we will NEVER share any other link to buy your items. We will never DM you any alternative links. You'll be able to officially find this link from SpaceApe Staff members on our Discord channel (http://discord.gg/tfew), our official Newsletter, our Wiki page, and from our Support team.
Can I purchase items for friends in the Cyber Store?:
Absolutely, you can make purchases for your friends! Just get their User ID, and use it to log into the Cyber Store. Once logged in with their ID, you're free to buy anything available. After you're done, don't forget to log out of their account before making purchases for yourself again. You can log out easily by clicking on your name and selecting "Log out".
Responsibility for gifting to friends:
Remember, when you buy gifts for friends, you must be very careful. The responsibility to ensure you send the rewards to the correct person is entirely yours. If the rewards go to the wrong player by mistake, unfortunately, we can't rectify it. So, double-check the User ID you enter. The Cyber Store will confirm the name of the player you're buying for when you log in. If the ID is incorrect or doesn't exist, you'll get an alert. Always verify the name matches your friend's before completing the purchase. And remember, our support team is here to assist if you need any help.
Will that not make my account insecure?
Your account's security will not be compromised by using the Cyber Store. We will not accept any form of receipts from the Cyber Store. This means that even if a friend makes purchases for you and receives the receipt, it won't influence any discussions you may have with our Support team. To ensure your account remains secure, we recommend that you personally make at least one purchase through the game and securely store the receipt you receive from Apple or Google. 
Will I be eligible for Loyalty Rewards if I purchase my friend rewards?
When you buy items for your friends, such as gifting them a Cyber Pass, your main account won't receive any credit for the expenditure. However, your friends' accounts will! They will then be eligible for Loyalty Rewards because the purchase credits their account, not yours.
This method via the Cyber Store, using their User ID, ensures they receive the appropriate rewards, which is more beneficial than gifting an in-game Cyber Pass, where the spending credit would go to you instead.